Welcome to Radio Frimley Park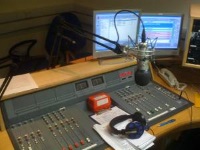 Welcome to Radio Frimley Park, the dedicated radio station for the patients of Frimley Park Hospital. We broadcast round the clock – 24 hours a day, seven days a week, to inform, educate and make the patients' stay in the hospital more enjoyable with regular quizzes, playing requests and of course some great music.
The charity has been operating since 1976 and continues to go from strength to strength.
---
Radio Frimley Park 40th Anniversary
On October 1st 2016 Radio Frimley Park will have been broadcasting to the patients of Frimley Park Hospital for forty years, since 1976.
We have reached many milestones in that time: a complete new studio, so that the complex now houses two studios, which both serve the Hospital; we started broadcasting twenty four hours a day on 28th of October in 2007 and, a big landmark, was the launching of our output onto the web in 2014, via this website.
We have also over this period made our dulcet tones audible in Cafe Glade, Outpatients One and the Psychological Department waiting area. The staff has also voted almost two to one in favour of us being heard in Pinetrees Restaurant, a task which we hope to complete in the not too distant future.
In addition, we have acquired a brand new Outside Broadcast vehicle with which to service the many functions we are requested to attend throughout the year.
We hope to mark this anniversary in 2016 in various ways, all of which we will publicise well in advance.
Finally, we would like to say that throughout this fantastic period we have been supported whole heartedly by the hospital. We are deeply grateful for their continuing support.
---