Welcome to Radio Frimley Park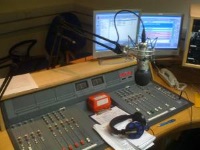 Welcome to Radio Frimley Park, the dedicated radio station for patients at the hospitals run by Frimley Health NHS Foundation Trust. We broadcast round the clock – 24 hours a day, seven days a week, to inform, educate and make the patients' stay in the hospital more enjoyable with regular quizzes, playing requests and of course some great music.
The charity has been operating since 1976 and continues to go from strength to strength. We are based at Frimley Park Hospital, but at the request of the Trust, we are now reaching out to two further sites - at the new Heatherwood Hospital in Ascot and also at Wexham Park Hospital in Slough.
---
Back on the Road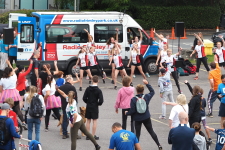 Each year Radio Frimley Park attends many local events, providing Public Address facilities for lots of local organisations. Many of these are connections we have had for many years.
What we do is beneficial on both sides - we make announcements, play music, and generally string the whole thing together from a "running order" the organisation provides, and do our best to keep the event running to time. For all this we charge a ridiculously modest fee, which doesn't make too much of a dent in the organisation's profit for the day. We know that what we do, works - many local organisations book us year after year - maybe because among other things it relieves anyone on their committee of having to "front" the occasion!
Naturally, it wasn't like that in 2020, when we weren't able to operate this service, and even last year we had a much reduced income, as we couldn't "get going", as it were, until half way through the season.
We're delighted and privileged to be able to say that we are being booked again this year, by lots of our longstanding friends and connections, and we're looking forward to going and hosting their "gig" for them later in the year.
Most of the events we do are in the period May to September, and if you are thinking of booking us, don't leave it too long, as we are getting booked up. The sort of things we often do are village events, local fêtes, PTA fundraising events for local schools, the occasional private party, and outside the core season, fireworks displays - just the music and the announcements, not the pyrotechnics!
Our reputation precedes us - contact events@radiofrimleypark.co.uk to enquire further.
---
To see earlier news stories, click here News Archive