Welcome to Radio Frimley Park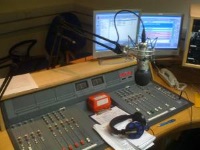 Welcome to Radio Frimley Park, the dedicated radio station for the patients of Frimley Park Hospital. We broadcast round the clock – 24 hours a day, seven days a week, to inform, educate and make the patients' stay in the hospital more enjoyable with regular quizzes, playing requests and of course some great music.
The charity has been operating since 1976 and continues to go from strength to strength.
---
Radio Frimley Park Events Vehicle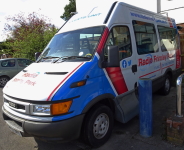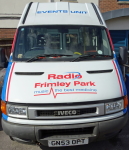 Here at Radio Frimley Park we have been busy during lockdown, gearing up for our forthcoming events programme this year. Hopefully we shall have a better year raising money for our charity than last year turned out to be, which saw every single event cancelled, even down to the fireworks displays that we normally cover. Of course, all this will depend on how big any of the crowds which attend such events turn out to be, which will be government driven.
Our Events team tied up with Zoo signs and designs, who very kindly waived some of their normal design fees and gave our outside events vehicle, a brand new and very stylish look for the forthcoming season. Bookings are beginning to come in and everyone\'s fingers are firmly crossed that we shall be back out and about locally very soon. Do watch out for our vehicle and if you are visiting Frimley Park Hospital you can admire the design that we are all very proud of, by looking in the car park at the left hand side of the hospital, which is where our van is normally parked.
Thank you to all our event organisers for their continuing support and if you do see us parked up at one of these happenings, please do come and say hello.
---
HRH The Prince of Wales thanks hospital radio volunteers
His Royal Highness The Prince of Wales, has recorded a special programme to say thank you to volunteers of hospital, health and wellbeing radio stations for their work in keeping communities connected and patients entertained during the Coronavirus pandemic. The programme, Music & Memories with HRH The Prince of Wales, which will be broadcast across member stations of the Hospital Broadcasting Association (HBA) including here on Radio Frimley Park, on Sunday 4th July 2021 at 12:00 noon features some of The Prince's favourite tracks, from artists including The Three Degrees; Diana Ross; Barbara Streisand and Edith Piaf to name but a few.
In the programme, The Prince of Wales highlights the work volunteers from HBA members have done over the last year, explaining that the role of hospital radio has been even more important during these current times, providing an invaluable service to patients, staff and families and reminisces on key life memories where music plays a significant role. His Royal Highness's thanks is also extended to NHS Staff and volunteers across the country, with The Prince citing he has been "profoundly impressed by the dedication shown by NHS staff, marvelling time and time again at the sheer resilience and indomitable spirit shown by everyone throughout the pandemic".
Grant McNaughton, Chairman of the association commented: "The Hospital Broadcasting Association represents over 180 local radio stations delivering entertainment, information and health and wellbeing services to healthcare users across the UK, whether in hospital or the wider community. To express his gratitude to the army of dedicated hospital radio volunteers and their listeners, HRH The Prince of Wales, has offered to share his favourite music and his memories associated with each choice. We are exceptionally grateful for HRH The Prince of Wales to recognise the dedication to volunteers across the UK who have continued to assist healthcare providers throughout these difficult times. Local dedicated and focussed entertainment provided to hospital and healthcare patients has and remains an exceptionally important part of recovery and recuperation. Sometimes unrecognised, raising the awareness of hospital, health and wellbeing radio as a key provider to the community is a challenge, but for our stations dedication and their services to be recognised by HRH is truly amazing and we are beyond grateful for his support".
Ian Pinnell, HBA Communications Executive added: "We're grateful to The Prince of Wales for recording this special programme for our member stations. We've seen first-hand the outstanding work our member stations and their volunteers have done during these extraordinary times and we're sure listeners will enjoy this programme and its eclectic mix of music".
---