Welcome to Radio Frimley Park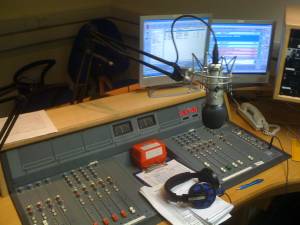 Welcome to Radio Frimley Park, the dedicated radio station for patients at the hospitals run by Frimley Health NHS Foundation Trust. We broadcast round the clock – 24 hours a day, seven days a week, to inform, educate and make the patients' stay in the hospital more enjoyable with regular quizzes, playing requests and of course some great music.
The charity has been operating since 1976 and continues to go from strength to strength. We are based at Frimley Park Hospital, but at the request of the Trust, we are now reaching out to two further sites - at the new Heatherwood Hospital in Ascot and also at Wexham Park Hospital in Slough.
---
Radio Frimley Park Wins Gold At Awards Ceremony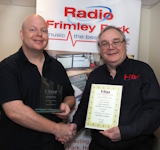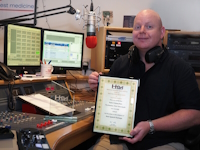 Radio Frimley Park was absolutely delighted to have won GOLD at the recent Hospital Broadcasting Association Awards for Best Speech Package, and our congratulations go to Ed Mayne, who compiled the winning entry.
Each year, the Hospital Broadcasting Association, which hosts the Awards, invites member stations to submit entries from their recent broadcast output under a whole host of categories - for example, Best Male or Female Presenter, Best Station Promotion or Trail, Best Specialist Music Programme, Best Programme with Multiple Presenters - you get the idea - and we have been declared winner of the GOLD award in the category Best Speech Package.$p>
Although it is the station that wins the Award, this was very much Ed's work. Ed is one of our Trustees, and a former Chair of the station.$p>
His entry tells the story of how it was that the Beatles came to perform in Aldershot.
Sadly, Radio Frimley Park was not able to be at the Awards Ceremony itself, but Nigel Dallard, who is the Association's Secretary, was kind enough to come to our studios especially to hand over the award, and the accompanying certificate to Ed personally,and also took the opportunity to have a quick on-air chat about it with Ed, during the regular Tuesday evening show he presents with Ben Tillett, called "On Air". The judges said that they ".....loved the use of audio in this entry – with great guests, telling a fascinating story that was very well told. What speech radio is all about."
---
To see earlier news stories, click here News Archive