Welcome to Radio Frimley Park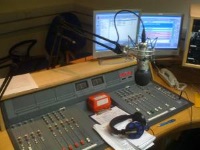 Welcome to Radio Frimley Park, the dedicated radio station for the patients of Frimley Park Hospital. We broadcast round the clock – 24 hours a day, seven days a week, to inform, educate and make the patients' stay in the hospital more enjoyable with regular quizzes, playing requests and of course some great music.
The charity has been operating since 1976 and continues to go from strength to strength.
---
Radio Frimley Park Fundraising and Publicity - Christmas 2021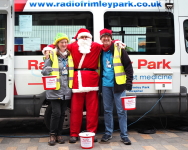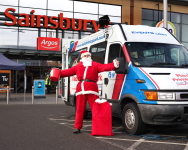 As in many previous years, with the notable exception of 2020, Radio Frimley Park was back in two of our local town centres in the run-up to Christmas 2021.
On 11th December we were outside the front of Sainsbury's in Farnborough, and a week later on the 18th, we were just outside The Square in Camberley.
The reason we do these "appearances" in the neighbourhood close to Frimley Park Hospital is twofold; firstly to raise our profile, and remind local residents and shoppers of our existence and what we do, and secondly to raise funds to support our work, by way of a Street Collection using buckets, and in 2021 for the first time, a card machine - reflecting how times have changed, and some people have switched away from carrying loose change with them.
We'd like to say a huge thank you to all the people who were kind enough to make a donation. As a result of these two events, as well as promoting awareness of our work, we also raised just over £1,250 towards continuing to run the station for the benefit of patients, visitors and staff at Frimley Park Hospital. As we move into 2022 and beyond we are looking to expand our offering to include the other two hospitals that Frimley Health NHS Foundation Trust runs, which are Heatherwood in Ascot and Wexham Park in Slough.
You can see more photos of these two events in our Gallery page
---
To see earlier news stories, click here News Archive