Welcome to Radio Frimley Park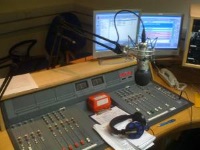 Welcome to Radio Frimley Park, the dedicated radio station for the patients of Frimley Park Hospital. We broadcast round the clock – 24 hours a day, seven days a week, to inform, educate and make the patients' stay in the hospital more enjoyable with regular quizzes, playing requests and of course some great music.
The charity has been operating since 1976 and continues to go from strength to strength.
---
Radio Frimley Park continues to help Radio Rheumatology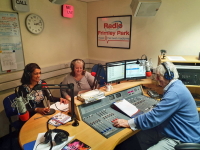 On Friday 22nd of November, Radio Frimley Park facilitated the second podcast recording for Radio Rheumatology. Once more presenting were Rosealeen Killick and Jeannette Cameron, both Rheumatology Nurse Specialists and this time they were joined by Dr. Julekha Wajed to talk about Early Inflammatory Arthritis care (EIA).
The department are involved in data collection for the British Society of Rheumatology\'s National EIA audit. Many more podcasts are being planned; such a simple easy way to get information and facts to patients and relatives, when time constraints prevent such detailed analysis being given on the day.
This week saw the third recording of yet another Radio Rheumatology podcast featuring the two wonderful nurses Rosealeen Killick and Jeannette Cameron who, in this latest episode, explain all about "Methotrexate". As they said themselves, "This podcast provides an overview of methotrexate and we hope it provides a useful resource to patients and rheumatology students alike."
We, at Radio Frimley Park, are proud to be able to continue servicing this ground breaking initiative.
You can find all the episodes at Radio Rheumatology
---
Award for Podcast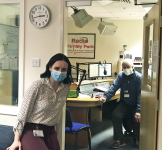 On February 13th RFP recorded one more Radio Rheumatology Podcast and all involved were suitably socially distanced and masked! This month on April 26th will see Rosealeen Killick collecting her award:
"BSR/ASME Joint Educational Research Award: Rosealeen Killick, Frimley Park Hospital, for their abstract, \'Delivering far-reaching patient education in rheumatological conditions and treatments: radio rheumatology podcasts.\'"
Radio Frimley Park was very proud to be a part of this venture and in helping Rosealeen get this fantastic recognition for her brilliant idea. Once we can again return to the studio, hopefully within the next month, we shall continue to record these informative and educational pieces to aid patients the world over. The podcast has now been listened to in something like sixty six countries. Such a phenomenal achievement by Rosealeen and the whole team from the rheumatology department, ourselves and WiFi SPARK Ltd.
---