Welcome to Radio Frimley Park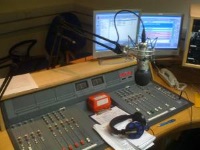 Welcome to Radio Frimley Park, the dedicated radio station for the patients of Frimley Park Hospital. We broadcast round the clock – 24 hours a day, seven days a week, to inform, educate and make the patients' stay in the hospital more enjoyable with regular quizzes, playing requests and of course some great music.
The charity has been operating since 1976 and continues to go from strength to strength.
---
Radio Frimley Park Events Vehicle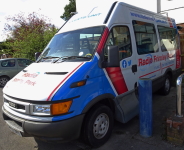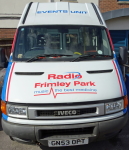 Here at Radio Frimley Park we have been busy during lockdown, gearing up for our forthcoming events programme this year. Hopefully we shall have a better year raising money for our charity than last year turned out to be, which saw every single event cancelled, even down to the fireworks displays that we normally cover. Of course, all this will depend on how big any of the crowds which attend such events turn out to be, which will be government driven.
Our Events team tied up with Zoo signs and designs, who very kindly waived some of their normal design fees and gave our outside events vehicle, a brand new and very stylish look for the forthcoming season. Bookings are beginning to come in and everyone\'s fingers are firmly crossed that we shall be back out and about locally very soon. Do watch out for our vehicle and if you are visiting Frimley Park Hospital you can admire the design that we are all very proud of, by looking in the car park at the left hand side of the hospital, which is where our van is normally parked.
Thank you to all our event organisers for their continuing support and if you do see us parked up at one of these happenings, please do come and say hello.
---
International Nurses Day May 12th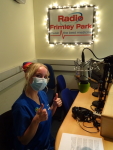 On May the 12th, Radio Frimley Park will be celebrating, along with the rest of the world, International Nurses Day.
Frimley Park Hospital has some amazing hidden talent within its confines and we have recorded some of these to bring you three emotional poems on the day. Also a great scheme called "Hospital at Home," is being pioneered from these very premises. Caroline Gale was interviewed about this brilliant idea, that has been in the pipeline for sometime but has now finally come to fruition and is being trialled for a twelve week pilot. We hope that Caroline will return to the RFP studios, and let us know once it has concluded, how the first steps in this superb initiative have gone.
May the 12th is the birthday of Florence Nightingale, so her birth is celebrated around the world to mark the contribution that nurses make to society. Nursing staff working through the pandemic have shattered the stereotypes of nursing and globally we have seen first hand the fundamental role that nursing plays in patient safety.
The two poets featured in our broadcasts that day will be Rachel Parsons (pictured in the RFP Studio) and Charlene Taylor whose poem is truly from the heart and was written in just one emotional outpouring, after meeting a Covid denier. We here at Radio Frimley Park, wish all the staff at Frimley, Wexham and Heatherwood a truly celebratory day to all concerned.
---