Welcome to Radio Frimley Park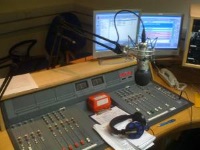 Welcome to Radio Frimley Park, the dedicated radio station for the patients of Frimley Park Hospital. We broadcast round the clock – 24 hours a day, seven days a week, to inform, educate and make the patients' stay in the hospital more enjoyable with regular quizzes, playing requests and of course some great music.
The charity has been operating since 1976 and continues to go from strength to strength.
---
Award for Podcast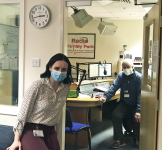 On November 20th 2020 RFP recorded one more Radio Rheumatology Podcast and all involved were suitably socially distanced and masked! This month on April 26th will see Rosealeen Killick collecting her award:
"BSR/ASME Joint Educational Research Award: Rosealeen Killick, Frimley Park Hospital, for their abstract, \'Delivering far-reaching patient education in rheumatological conditions and treatments: radio rheumatology podcasts.\'"
Radio Frimley Park was very proud to be a part of this venture and in helping Rosealeen get this fantastic recognition for her brilliant idea. Once we can again return to the studio, hopefully within the next month, we shall continue to record these informative and educational pieces to aid patients the world over. The podcast has now been listened to in something like sixty six countries. Such a phenomenal achievement by Rosealeen and the whole team from the rheumatology department, ourselves and WiFi SPARK Ltd.
---
International Nurses Day May 12th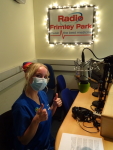 On May the 12th, Radio Frimley Park will be celebrating, along with the rest of the world, International Nurses Day.
Frimley Park Hospital has some amazing hidden talent within its confines and we have recorded some of these to bring you three emotional poems on the day. Also a great scheme called "Hospital at Home," is being pioneered from these very premises. Caroline Gale was interviewed about this brilliant idea, that has been in the pipeline for sometime but has now finally come to fruition and is being trialled for a twelve week pilot. We hope that Caroline will return to the RFP studios, and let us know once it has concluded, how the first steps in this superb initiative have gone.
May the 12th is the birthday of Florence Nightingale, so her birth is celebrated around the world to mark the contribution that nurses make to society. Nursing staff working through the pandemic have shattered the stereotypes of nursing and globally we have seen first hand the fundamental role that nursing plays in patient safety.
The two poets featured in our broadcasts that day will be Rachel Parsons (pictured in the RFP Studio) and Charlene Taylor whose poem is truly from the heart and was written in just one emotional outpouring, after meeting a Covid denier. We here at Radio Frimley Park, wish all the staff at Frimley, Wexham and Heatherwood a truly celebratory day to all concerned.
---