Welcome to Radio Frimley Park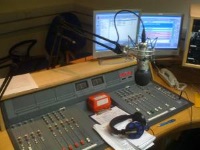 Welcome to Radio Frimley Park, the dedicated radio station for the patients of Frimley Park Hospital. We broadcast round the clock – 24 hours a day, seven days a week, to inform, educate and make the patients' stay in the hospital more enjoyable with regular quizzes, playing requests and of course some great music.
The charity has been operating since 1976 and continues to go from strength to strength.
---
Award for Podcast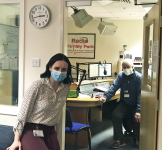 On November 20th 2020 RFP recorded one more Radio Rheumatology Podcast and all involved were suitably socially distanced and masked! This month on April 26th will see Rosealeen Killick collecting her award:
"BSR/ASME Joint Educational Research Award: Rosealeen Killick, Frimley Park Hospital, for their abstract, \'Delivering far-reaching patient education in rheumatological conditions and treatments: radio rheumatology podcasts.\'"
Radio Frimley Park was very proud to be a part of this venture and in helping Rosealeen get this fantastic recognition for her brilliant idea. Once we can again return to the studio, hopefully within the next month, we shall continue to record these informative and educational pieces to aid patients the world over. The podcast has now been listened to in something like sixty six countries. Such a phenomenal achievement by Rosealeen and the whole team from the rheumatology department, ourselves and WiFi SPARK Ltd.
---
Radio Frimley Park Events Vehicle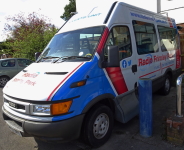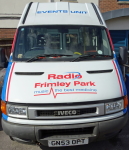 Here at Radio Frimley Park we have been busy during lockdown, gearing up for our forthcoming events programme this year. Hopefully we shall have a better year raising money for our charity than last year turned out to be, which saw every single event cancelled, even down to the fireworks displays that we normally cover. Of course, all this will depend on how big any of the crowds which attend such events turn out to be, which will be government driven.
Our Events team tied up with Zoo signs and designs, who very kindly waived some of their normal design fees and gave our outside events vehicle, a brand new and very stylish look for the forthcoming season. Bookings are beginning to come in and everyone\'s fingers are firmly crossed that we shall be back out and about locally very soon. Do watch out for our vehicle and if you are visiting Frimley Park Hospital you can admire the design that we are all very proud of, by looking in the car park at the left hand side of the hospital, which is where our van is normally parked.
Thank you to all our event organisers for their continuing support and if you do see us parked up at one of these happenings, please do come and say hello.
---