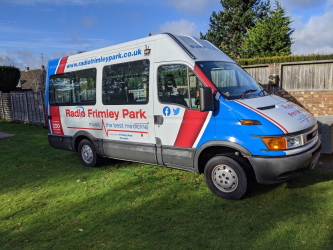 For many years Radio Frimley Park has operated an Events Unit; a fundraising initiative to keep the station on the air. We offer a public address system for school fêtes, carnivals, fireworks displays, fun runs - indeed anywhere that requires a professional sound system
Our experienced presenters have the skills necessary to manage the entertainment aspect of any event. We arrive prior to the event to set up and are usually provided with a running order and an indication of timings for the day's events. From that we then make the announcements, showcase individual stalls as necessary, and ensure that events keep to time. We also play music to suit the occasion, and we can play your specific music requirements which can be provided to us on CDs, USB sticks and phones.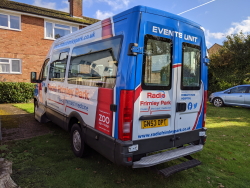 We have also provided our services to corporate clients, for events such as staff fun days.
We have many clients who book our services year after year. Not only do you get a professionally set up PA system, but your event is managed for you so neither you nor your committee have to worry about it. In addition our prices are very competitive (all our presenters and support teams give their time for free). The fee you pay goes exclusively towards the running costs of a long-established and well regarded local charity.
Members should sign into the member's area to see team leaders and volunteer teams.
If you would like us to provide our services for your event, please email our Events Manager: events@radiofrimleypark.co.uk.